Situated on the western side of the island, Gouyave, sometimes called the Fishing Capital of Grenada, Action city or Bacchanal city, is the town that never sleeps.


The town of Gouyave gained notoriety on Monday 2nd March, 1795 , when Julien Fedon , "a free coloured planter" who owned a large estate in Belvidere, St. John's led a revolt against the British called the Fedon's Rebellion.


Called Charlotte Town, after British Queen and Duncan's Town, the town was called Gouyave because it was abundant in Guava.


On Thursday 5th March, 1795, a major battle took place in the town between Captain Guerdon and Fedon's men. Over thirty persons were killed on both sides.
The town and parish of St. John was the second most important part of Grenada after the Town of St. George's, the capital.
Gouyave provided refuge for hundreds of persons displaced after the Great St. George's Fire on Wednesday 1st November 1775. Hence, it was not uncommon to see advertisement for the availability of boarding houses and Day Care Centers. It was the home of many important and rich merchants and the staging grounds for the Fedon Rebellion of 1795-6. During that period it was a free port or Port Liberte and naval base for the French insurgents.
The Town of Gouyave was divided into four segments, Portuguese Town around Middle River, Duncan Town around St. Rose and Lower Depradine Street and the L'Anse.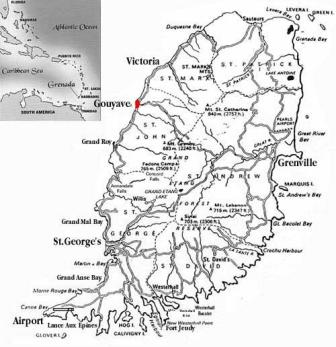 According to historical records, on Feb 10th, 1744 Governor Robert Melville set out to create a British society out of a French one and made many changes to the names of the parishes and town from French names to English ones, most were in honour of British subjects. What was "French Quartiers" were now named "Parish". The "French Quartiers" of L'Ance Gouyave became St. John and the capital was called "Charlotte Town". Out of defiance, the local "subjects" continue to use the name Gouyave up to this day, officially, Charlotte town is the capital of St. John (source: Beverly Steele).
Gouyave is known as the action city and host many celebrations and parties on a weekly or monthly basis. It's most famous festival is the weekly Gouyave Fish Friday festival and the Annual Fisherman Birthday celebration and Sailing Regatta on June 29th.
In recent time, Gouyave became a talking point when then 14 year old Kirani James became the talk of the athletic world when he captured silver at the 2007 World Youth Championships with a time of 46.96s, the fastest run by a 14 year old.
From then on it was no stopping him, winning gold at the 400m at the London 2012 Olympic (43.94s), at the Rio 2016 Olympics, he won the silver medal (43.76s) and at the 2020 Tokyo Olympics, he earned a bronze medal (44.19s). He is the toast of the town, the country and the world for his humility.